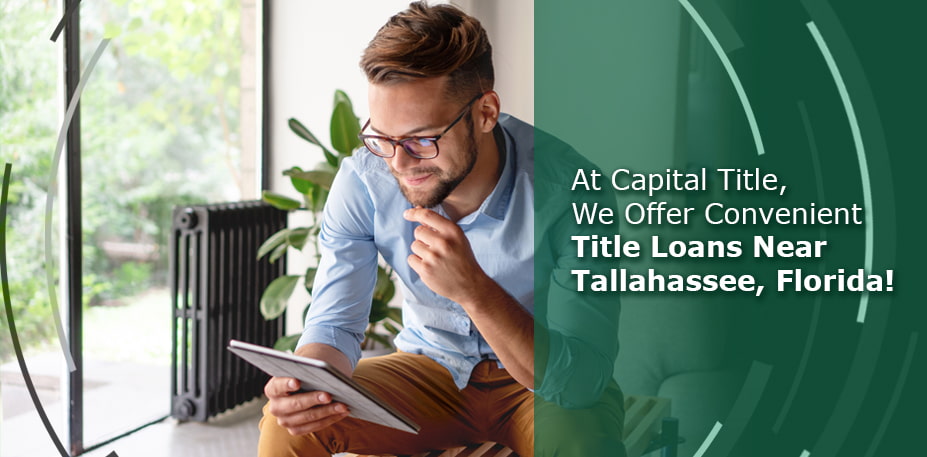 Wondering why you should get a vehicle title loan from Capital Title near Tallahassee, FL? Working with us for car title loans has a number of great benefits. Read on and see a few of the top reasons we are the best choice.
No Credit Checks Required
We don't require any credit checks at Capital Title. Whether you have bad credit or no credit, we're here to help you get the cash you need. As long as you meet our other application requirements, you can qualify for a vehicle title loan!
Minimal Requirements & Documentation
We make it easy for you to get the cash you need. To qualify for a loan, all you need is:
1. A free and clear car title in your name
2. To bring your car to our office for a quick 5-minute inspection
3. A document proving your current place of residence
If you can meet these requirements, you qualify for a vehicle title loan from Capital Title in Tallahassee.
You Keep Your Keys & Your Car
Think that you'll lose your keys or won't be able to drive your car after you get a title loan? Don't worry. You can continue driving your car just like you normally would as you repay your vehicle title loan from Capital Title.
Get up to $5,000 on the Same Day You Apply
Depending on the value of your vehicle, you may be able to get up to $5,000 for your car title, and you can get your cash or a check on the same day that you apply at our office near Tallahassee, Florida. 
Quick & Easy Application Process
You can click here to start the online inquiry process at Capital Title, and get an email quote instantly. Then, just come to one of our two conveniently located offices near Tallahassee to complete your application in just a few minutes.
No Prepayment Penalties
We don't charge prepayment penalties. If you'd like to save some money on interest, you can repay your vehicle title loan whenever you have the money to do so.
Get the Cash You Need from Capital Title Today!
If you need a vehicle title loan in Tallahassee, Capital Title is here to help. If you have questions or need help applying, feel free to contact us online. You can also call our Attapulgus, GA, location at (850) 219-2274, or call our Thomasville, GA location at (850) 297-2274 to speak to one of our loan officers directly.