IF YOU NEED EMERGENCY FUNDS, CAPITAL TITLE IS HERE TO HELP!
Apply Online
When you apply, you will need a free and clear vehicle title in your name.
Vehicle Inspection
Bring your vehicle in for a quick inspection.
Get Approved
Your application will be reviewed and once approved...
Get Your Funds
You will receive your funds immediately
APPLY ONLINE AND CAN GET UP TO $5,000.00

If you are interested in car title loans, we're here to help.
At Capital Title, we specialize in title loans in Tallahassee and Southeast Georgia area.
In just a few minutes, you can get a title loan for up to $5,000, depending on the condition of your vehicle, which makes it easy for you to get emergency cash when you need it most.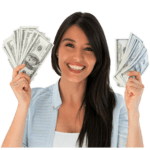 No Traditional Credit Checks.
Whether you have bad credit, no credit, or have even had issues with issues like repossessions or bankruptcies, you will qualify for a Tallahassee title loan.
Your car works as collateral for your loan. When you sign for a title pawn, we reserve the right to keep your car if you do not repay your loan. That means your credit doesn't matter.
15-Minute Pre-Approval.
You can complete the entire title loan process and get pre-approved the same day, all you need are a proof of address (such as a cell phone or cable bill with your name and address on it) and a lien-free vehicle title, meaning you are not making payments to any bank, car dealership or any other party.
Same-Day Cash for Your Car.
We want you to get access to your cash fast. Once you're approved for a title loan from Tallahasseetitleloan.com, we'll give you same-day cash so that you can cover your emergency expenses! No waiting around for a check in the mail – we make it easy for you to get the money you need.
Keep Your Keys & Your Car.
We never need your keys or your car. Once we inspect your vehicle and issue your car title loan, you can continue to drive it just like you normally would – and once you repay your title pawn in full, you'll have full ownership of your car once again.
Start Your Application Now!
Ready to get started with Tallahasseetitleloan.com?
Just fill out our online loan application now, and one of our title loan specialists will contact you. Or, for more information, you can contact us directly over the phone at (850) 297-2274 or (850) 219-2274